It's Friday, so I'm linking up with
The Bargain Blonde
to share some of the things this week that I saw and loved.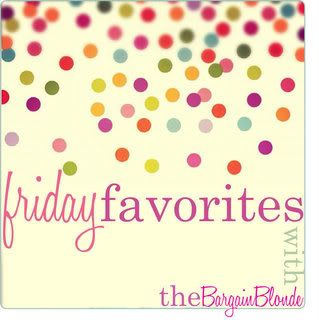 Favorite Store
Paper Source. I went on Monday to pick up some items for a handmade paper craft I'm working on. I spent way too long in that store. And of course I live equidistant to the two Chicago locations and both are in old buildings with stairs. Not condusive for this momma with a baby in a stroller. So I plopped Jacob down on the floor and he played while I looked around. Here's a peak at what I got and I'll share the craft later.
Favorite Beauty Product
I've been using Cover Girl's CG Smoothers BB Cream all summer instead of foundation or powder and I simply love it. It's so lightweight but still covers and evens the skin's tone. I use it over my daily moisturizer and it lasts all day long. I don't really know all the intricacies of the BB (beauty balm) craze, but I like this stuff. And it's cheap at Target.

Favorite Clothing Hack
How cool is this Zara-inspired leather pocket tee from In Honor of Design? An inexpensive t-shirt from Target revamped to look really expensive. I like it.
Photo from In Honor of Design
I'm keeping this one short and sweet because Jacob and I are off to have some fun today on this rainy Friday, but here's one more before I go.
Favorite Quote

"How many things I can do without!" - Socrates
I'll let you ponder what it means to you, but I thought it was fitting in light of my current spending freeze. Although I can't quite monetize what I've saved by not shopping this month, I am realizing that I can make do without all those "just because" impulse purchases. After going through the clothes in my closet, I'm also working on purging the things I currently own but don't wear or use regularly. I am certain my clothes and accessories will find a good home elsewhere once I donate them to charity.

*******
Have a great weekend! Be sure to stop by on Monday to share your weekend update with me, Sami and Leeann using our new button. Yeah, we had some work done and we're not ashamed.