This week seemed to drag on and on and on. Perhaps it's because I booked myself full every day this week. Or perhaps it's because I'm on a
shopping freeze
. But let the record show I shopped at Target on both Tuesday and Wednesday of this week and successfully avoided all things clothing, shoes and accessories. Yeah, I deserve a Gold Medal for this, just like little Gabby Douglas - the flying squirrel.
With Friday finally here, Jacob is excited for our weekly music class. That kid bangs on the drums like it's nobody's business. And because it's Friday, I'm linking up with The Bargain Blonde to share some of the things this week that I saw and loved.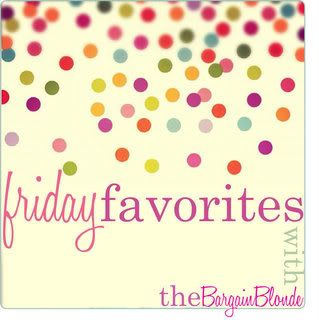 Favorite DIY
This floating vase project from Cupcakes and Cashmere.
Photo: Cupcakes and Cashmere
Favorite Must-Try Recipe
I am a huge fan of small-bite food. I would much rather make a meal out of lots of appetizers than have to commit to just one dish. I need to throw a cocktail party soon so I have a reason to make these Okra Cornmeal Cakes.

Photo: Annie's Eats
Favorite Mommy Find
This mommy find was courtesy of my mommy. A book of recipes for 100 quick and easy baby meals. Quick and easy is my type of cooking!
Favorite Handbag
I'm so glad I scooped this Stella & Dot find up before my spending freeze was implemented. I already have the Waverly crossbody bag in black and it is extremely spacious and functional, so I knew I needed this light brown color for all my non-black attire.
Favorite Fashion Blog
I have been following the lovely Christina of Oh So Glam for quite some time, but wanted to share her loveliness with my readers in case you don't know about her. She is so elegant and always looks so put together. I recently pinned a lot of her outfits for my fall wardrobe inspiration.
And my least favorite thing of the week - aside from not shopping? Having to pack up Jacob's 6 month size clothes. In typical new mom fashion, I must throw in the standard "he's growing up way too fast" cliche, because it really is true. Sigh.
Happy weekend! Be sure to stop by on Monday to share your weekend update with me, Sami and Leeann.