I hear people say all the time that they have a "love/hate relationship" with someone or something. I used to think hate was a strong word, but I'll admit I do use it. Often.
Today I'm linking up with beautiful, sweet and fabulous Noel at
Noel's Beautiful Life
for her weekly Love/Hate linkup.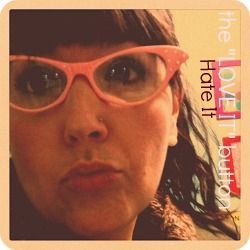 I
love
being a stay-at-home-mom.
I
hate
that a part of me feels guilty for not making a financial contribution to the family. Yes, I understand my contribution of raising our son is monumental and is ultimately saving us money in childcare, but I still sometimes feel guilty.
I
love
that I have all day to spend with my baby.
I
hate
that I never seem to get anything done. Yes, laundry pile, I see you staring at me.
I
love
summers in Chicago.
I
hate
that the heat and humidity cause me to do things I later regret. Like eating mint chocolate chip ice cream from Baskin Robbins. A cold bottle of water probably would have helped quench my heat-induced thirst just as well.
I
love
being able to cook dinner for me and my husband.
I
hate
having to clean up afterwards.
I
love
going shopping.
I
hate
having to rearrange my tiny closet everytime I buy something new because there is literally no room for even one...more...shirt...
I
love
our beautifully made bed with all our fluffy pillows and throws.
I
hate
that I never get around to making it unless I know I'm having company over.
I
love
having a blog to share my thoughts, likes and photos and meet people I otherwise would not.
I
hate
that sometimes I feel obligated to post even on days when I don't feel like it. I'm going to be taking some more "me time" this summer because I don't want to miss out on time spent with my son (or getting some much-needed rest) and grow to resent my blog.
You know what else I love? These guys.
Is it really only Wednesday? Happy hump day friends.